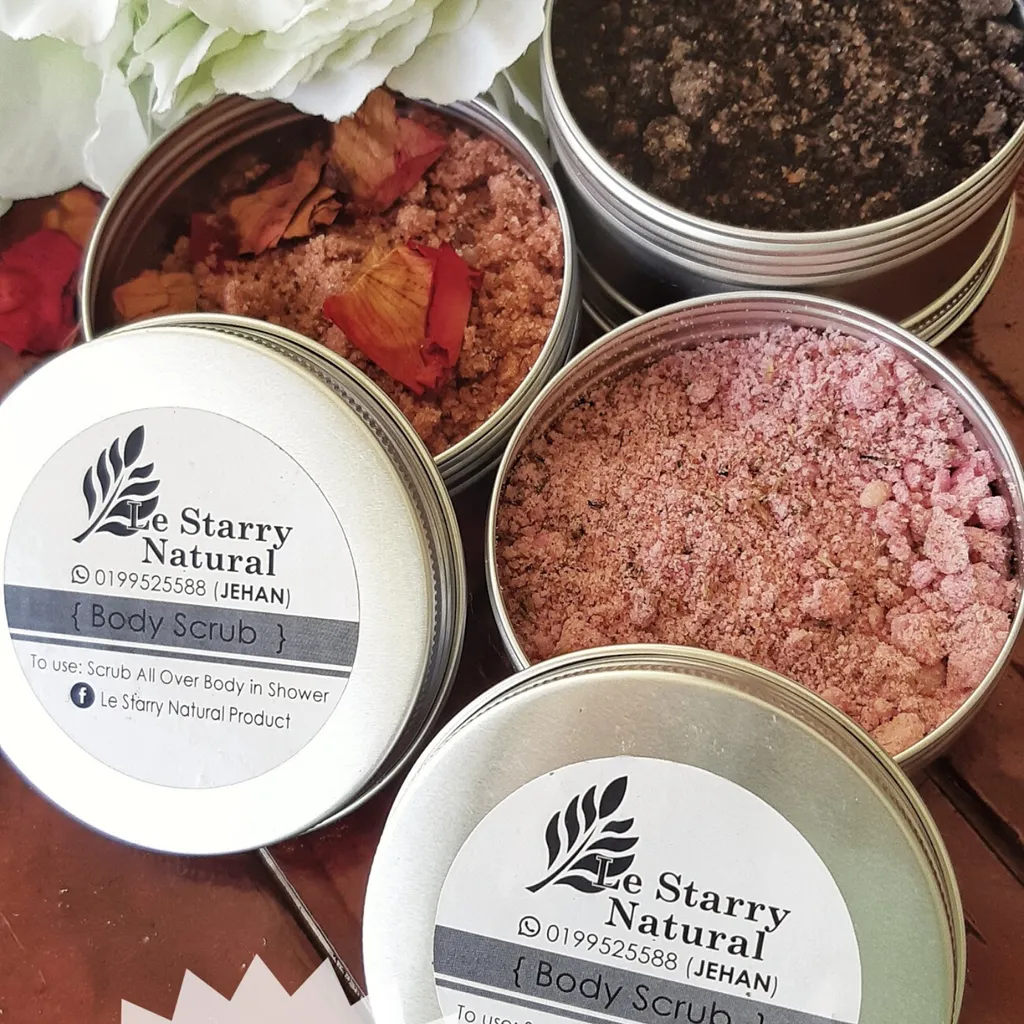 Le Starry Naturals Body Scrub (100 g)
Main ingredients: Himalayan pink salt, soda bicarbonate, coconut oil, essential oil.
Pink salt
Natural exfoliator and sloughs off dead skin cells easily.
It contains essential minerals that soften skin and restore hydration at the deepest levels.
Soda bicarbonate
Helpful in managing pH level
Anti-inflammatory and antiseptic properties
Soothes inflammation and mild pain due to acne breakouts and remove dead cells
Le Starry Natural Body Scrub is available in 3 variety
Content weigh: 100g
Rose scrub:
has antibacterial properties that fight the acne causing bacteria thereby dimishing the appearance of acne and acne related blemishes.
It helps to promote a healthy glow to the skin.
The natural oil found in rose petals helps to lock the moisture into the skin that helpsit hydrated and nourished
Roses are blessed with cooling properties that helps to soothe and calm the skin from sun damage and other skin irritation
The natural astringent property found in rose petals works on the elasticity and suppleness of the skin. Rose scrubbing helps to boost collagen that maintains the firmness and leaves the skin youthful and refreshed.
It also reduces the appearance of the skin imperfections and promotes an even skin ton and healthy complexion
Benefits coffee scrub:
Ccoffee scrub exfoliates to smooth the skin and provide an even appearance
It help decrease the appearance of sun spots, redness, and fine lines
The chlorogenic acid in coffee are both anti-inflammatory and antibacterial that help combat problems caused by harmful bacteria.


Benefits lavender scrub:
Antibacterial and antifungal agent
Reduce irritation, treat acne, eczema and psoriasis, speed up the healing of scar tissues, tone skin, smooth fine lines and help repel bugs

We believe you can have it all: great hair, glowing skin, sun kissed complexion, sparkling white smile. That's why we offer low-waste, high-style products that make sustainability accessible and attractive. Everything is made and designed to help you look good and feel even better about minimizing your impact on the environment.

Think of all the plastic products you have used in your everyday life. Have you considered where those empty plastic containers go when they are empty? Sadly, recycling rates can't keep up with production, and many of these bottles end up in our landfills and waterways, threatening our eco systems.

Our mission is to reduce single-use plastics in the products that we use daily, making sustainability accessible, and stylish.

Switch over to sustainable body care and cosmetic and be a mindful consumer to benefit yourself and the Earth too. We are offering an alternative to your store bought plastic packaged skin care and body care.

Migrate over. Save the Earth. Our convenience should not come at the expense of our planet.
---