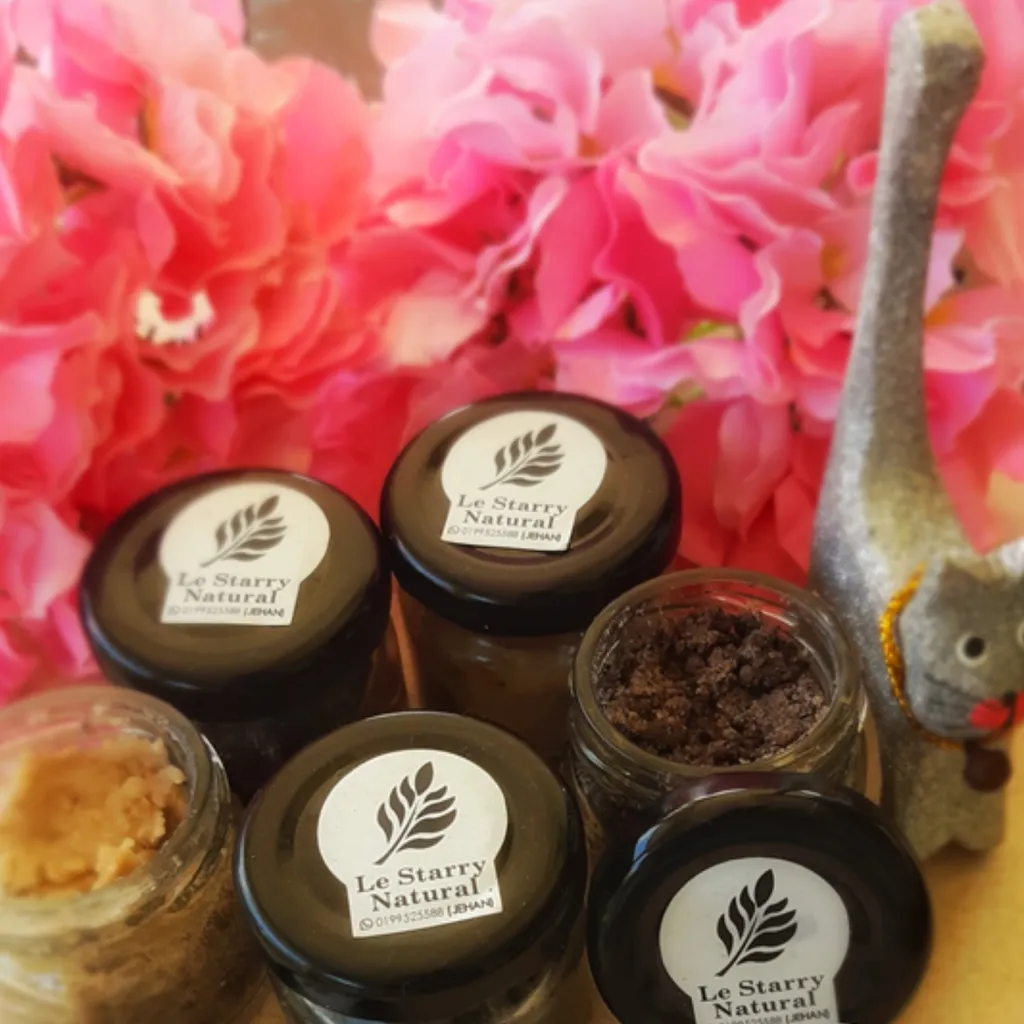 Le Starry Naturals Facial Scrub (20 g)
Ingredients: Soda bicarbonate, sea salt, coconut oil, clay, essential oil.
Tumeric scrub:
Tumeric contains antioxidants and anti-inflammatory components. These characteristics provide glow and luster to the skin.
Turmeric can also revive your skin by bringing out its natural glow.
It can also help reduce redness from blemishes and calm skin conditions like eczema and rosacea.
Tumeric is excellent for acne because it is a natural antiseptic and helps to keep bacteria from spreading. The anti-inflammatory qualities can target your pores.
Turmeric is also known to reduce scarring. This combination of uses may help your face clear up from acne breakouts.
Besides, the curcumin found in turmeric can help wounds heal by decreasing inflammation and oxidation.

Bentonite clay scrub:
It can help reduce redness and inflammation because the minerals in the clay can bind to bacteria, helping to detoxify and reduce irritants.
People who produce excess sebum, a naturally-occurring oil, tend to suffer from chronic acne outbreaks and blemished skin. Bentonite clay can help limit the production of acne-causing sebum.
The healing minerals in the clay help to encourage new, healthy skin growth, leading to a reduction in the appearance of dull skin spots, fine lines, and wrinkles.
We believe you can have it all: great hair, glowing skin, sun kissed complexion, sparkling white smile. That's why we offer low-waste, high-style products that make sustainability accessible and attractive. Everything is made and designed to help you look good and feel even better about minimizing your impact on the environment.

Think of all the plastic products you have used in your everyday life. Have you considered where those empty plastic containers go when they are empty? Sadly, recycling rates can't keep up with production, and many of these bottles end up in our landfills and waterways, threatening our eco systems.

Our mission is to reduce single-use plastics in the products that we use daily, making sustainability accessible, and stylish.

Switch over to sustainable body care and cosmetic and be a mindful consumer to benefit yourself and the Earth too. We are offering an alternative to your store bought plastic packaged skin care and body care.

Migrate over. Save the Earth. Our convenience should not come at the expense of our planet.
---